Our Services
AUTHORISED SERVICE CENTER YASKAWA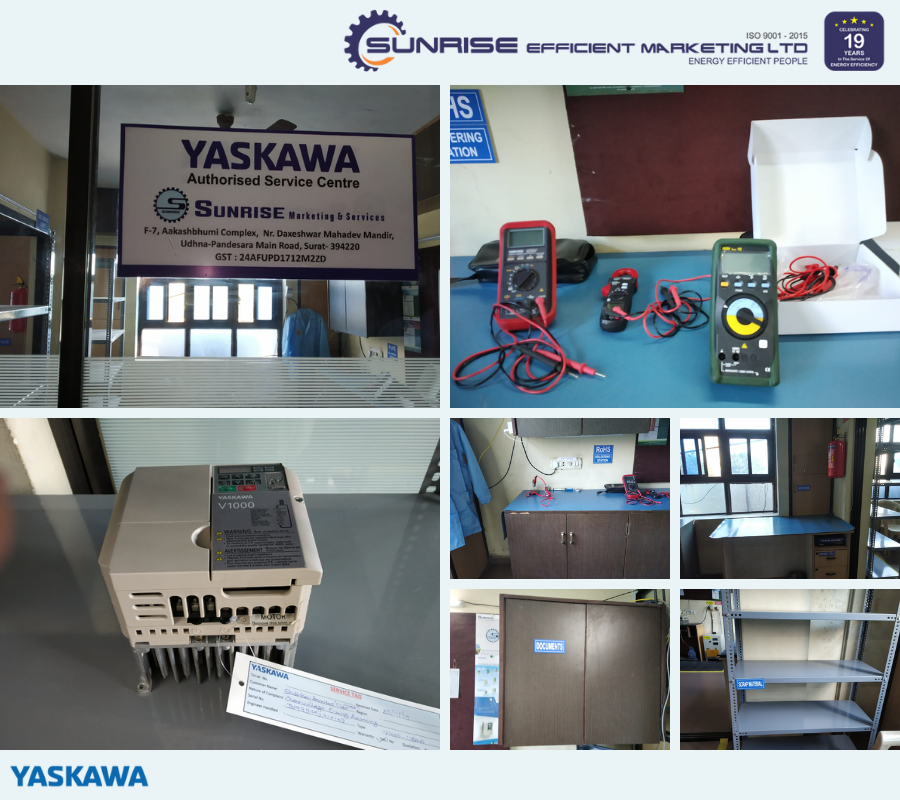 SUNRISE EFFICIENT MARKETING LIMITED is Providing service & support of Yaskawa AC Drive Repairing Services in SOUTH GUJARAT. We repair almost all models of Yaskawa AC Drive like Varispeed F7, G7, A1000, V1000, J1000, H1000, R1000, G5 Etc. SUNRISE EFFICIENT MARKETING LIMITED is an Authorized Service center for the Yaskawa AC Drive Repairing service in India. Our qualified engineers and technical experts execute these services by using modern tools within the committed time frame. Our Yaskawa Drive Repairing Services encompass servicing industrial drives like inverters, ac drives, vector drives, soft starters, motor controls, and drive boards. Our repair services are fast and effective, helping you restore your operations quickly.
We have repaired Yaskawa AC Drive from 0.75kw to 400kw. We also provide AMC Service of Yaskawa AC Drives in all plants.  SUNRISE EFFICIENT MARKETING LIMITED provide Yaskawa AC Drive Repairing service in all major cities in GUJARAT like VAPI, VALSAD, ANKLESHWAR, VYARA, BARODA, SURAT, etc.
We have robust infrastructure equipped with dynamometer loading devices to ensure all repair drives are tested with continuous 100 % rated load and permissible overload with temperature rise monitoring.
We have developed a reputation for our high standards and quick results for YASKAWA Repairs.
As an experienced repair company in the industry, we only use the very highest quality machinery and technology to complete the repairs and services. These types of equipment are combined with our knowledgeable repair technicians to provide proven results, time and time again.
Features:
High-quality repairing service of Yaskawa AC Drives
Original components are used in Repairing Yaskawa AC Drives
No hidden charges
MOTOR REWINDING PROCESS
Sunrise Efficient Marketing Limited offers a total range of motor rewinding services for electric motors of all sizes. We're an industry-leading partner, focused on getting your motor back up and running so your operations can minimize downtime and get back to profitability.
As a qualified service provider, we always ensure your rewound motor is brought back up to OEM standards and efficiency expectations. Giving you the best rewinding service for electric motors starts with a complete review to understand if there is any problem with your motor that you were unaware of during submission.
If we discover anything, we'll contact you right away with an updated quote and information on our concerns. You must give us approval before any work is performed, so we are both in agreement on the final cost.
Our rewinding services for motors follow a very strict process to maximize speed and efficiency while minimizing any risk to core integrity.
Our Motor Rewinding Process
Record Pertinent Data – We start by recording all the necessary data that is needed to rewind the motor, including the number of slots, number of coil turns, pitch, and necessary wire size for making coils to rewind the motor.
Remove Faulty Windings – Once we record the necessary data and enter it into our database, it's time to remove the faulty windings. Following removal of the faulty windings, we must remove any leftover varnish, insulation, or contaminants before rewinding the motor
Steam Clean the Stator and Paint With Insulation Paint – After this, we steam clean the stator and all the other parts of the motor to make sure they are free of contaminants. Once it is all clean, we paint inside the stator with insulation paint. We then install liner insulation in the stator slots so that the coils do not make contact with the core.
Make New Coils and Add to Stator Slots – Now it's time to make new coils. The type of winding head we will use to wind the motor will depend on what type of motor it is. The person doing the winding tests the wire for any defects while the winding process is taking place. Once the coils have been created, it's time to add them to the stator slots as appropriate. When the coils are in place, we add wedging to insulate and protect the coil
Add Lacing – The next step is to add lacing for additional stability. Finally, we connect new motor leads followed by a thorough quality test. A dielectric test confirms the integrity and quality of the windings. The last step is to heat the motor in an oven for dipping in varnish. The varnish bonds the windings together and prevents the coils from moving. It also is a way to protect the windings from contamination.
Cure the Motor and Test – The last step is curing the motor and then re-testing to make sure that the motor is working optimally and as intended.
While this seems like an intense and heavily involved process, it is practically automatic for our trained repair technicians at Sunrise Efficient Marketing Limited. Our technicians have wound countless motors and know the process by heart. You can be confident that when you contact us for your motor rewind and repair services, you will find yourself with a quality motor that works virtually like new at the end of it.